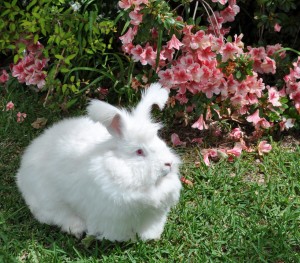 We raise top quality German Angora rabbits in Northern California. We breed high quality lines with outstanding wool production. German angoras are easy to handle and they have been selected over the years to have excellent dispositions. Their coats are dense and matt free. Many of these animals are IAGARB registered or come from IAGARB registered lines.
Angoras at Bungalow Farm are humanely raised and gently shorn. Wool is harvested every 90 days.
German angoras are rabbits descended from original imported German stock bred for commercial wool production. They are known for their gentle sweet temperament and high wool yields. German angoras have typically produced up to 60 oz. of wool per year. However, as new importations have occurred in the last several years, new stock with higher wool yields have been brought to the US. We now have animals in our barns that have ancestors with annual gross wool yields in the 2200-2800 gram range. That's about 75 to 98 oz. of wool per year. The angora wool from Bungalow Farm is made into roving, felting batting and yarn.
At Bungalow Farm, we practice selective and intentional breeding using the set goals established by the IAGARB breed standard. We strive to improve on body type, wool production and texture. Most of our animals are IAGARB registered meaning they have met the IAGARB Standard of the German Angora for body type, wool type and wool production. However, there is always room for improvement. Using breeding stock that is registered, consistency and excellence is our focus.
[contact-form-7 404 "Not Found"]